Important Announcement:
Dear Customer,
We hope this letter finds you well. We are excited to announce that we are upgrading our car park management system in the Courthouse Public car park, to deliver a more seamless and convenient parking experience for our valued customers like you. As part of this upgrade, we will be implementing advanced Automatic Number Plate Recognition (ANPR) technology, which will revolutionize the way you manage your parking.
The new ANPR technology will enhance the accuracy and efficiency of our car park management system, allowing for smooth entry and exit processes, hassle-free payment transactions, and improved overall customer experience.
To ensure a smooth transition to the new system, we kindly request you to follow these steps
Install the SPT Park Easy App: The SPT Park Easy app is our user-friendly mobile application that will serve as your primary tool for managing your parking requirements. Please visit the Apple Store or Play Store, search for "SPT Park Easy," and install the app on your mobile device.
Registration: Once you have installed the SPT Park Easy app, kindly register your new account. Your old account is not compatible with the new system. We kindly request you to update your vehicle details, including your vehicle's number plate, within the SPT Park Easy app. This will ensure accurate ANPR recognition and a smooth parking experience.
Resubscribe to Parking Services: Once you have registered your new account on SPT Park Easy app, log in and look for a red button – I AM EXISTING CUSTOMER – SWITCH ME NOW, and follow the resubscription process, by choosing subscription renewal frequency and submitting the Billing and payment information.
Please note that your existing car park Membership Subscription will need to be switched to the new system before 12th June 2023, for uninterrupted access to our parking services. We apologize for any inconvenience caused by this transition but assure you that the upgraded system will deliver enhanced convenience and a superior parking experience.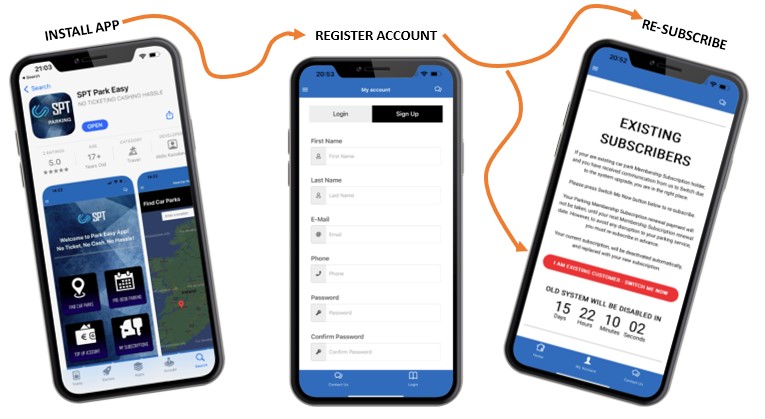 Our customer support team is available to assist you with any questions or concerns you may have during this transition period. You can reach us through the app or by contacting our dedicated customer support line on 087-260 9102.
We sincerely appreciate your cooperation and understanding as we upgrade our car park management system. We are confident that the new ANPR technology, coupled with the SPT Park Easy app, will greatly enhance your parking experience with us.
Thank you for your continued support, and we look forward to providing you with an even more seamless and convenient parking journey.
Best regards,
IPairc Support Team
Scan this QR code to download SPT Park Easy app.